News:
Livechat for Allegro and eBay auctions
2017-09-06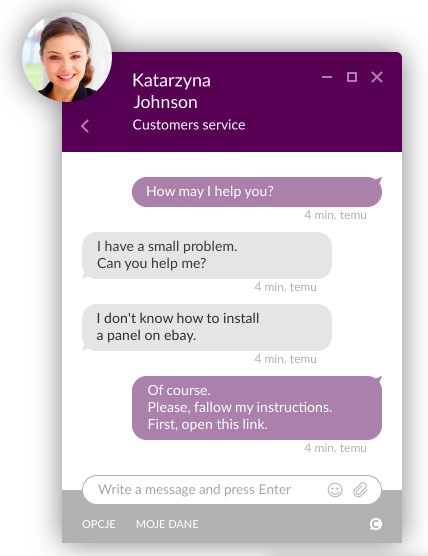 Feel free to test our new tool - a live chat widget for providing customer support
Chater.biz
.
The chat is super easy to install in
your online store
or
Allegro and eBay auctions.
.
What makes it so great?
it works in the store and on your auction at the same time
it's cloud-based (no need to install software on your PC)
it offers a preview of customers who are currently online or viewing the auction
it's highly customizable
it has the option to be automatically added to all your auctions
it's FREE
Livechat is the perfect add-on allowing for swift customer support.
A sample Chater implementation can be viewed on one of our customer's sites, who uses it both for
Allegro
and his
store
.

Copyright 2016 by AuPanel.com
How eBay cross-selling tool increases sales?
Automatic auction panels are used to increase sales at auctions thanks to mutual promotion of auctions by other auctions. Our service provides special HTML code, which after placement in auction displays gallery of miniatures of your other auctions, encouraging potential customers to see your other offers. It all works automatically, so you place the code only once, and our system automatically updates data about your offer and it changes displayed items every more than ten minutes. Sequence of display may be random or planned: time left, number of bids, price, keywords, etc.